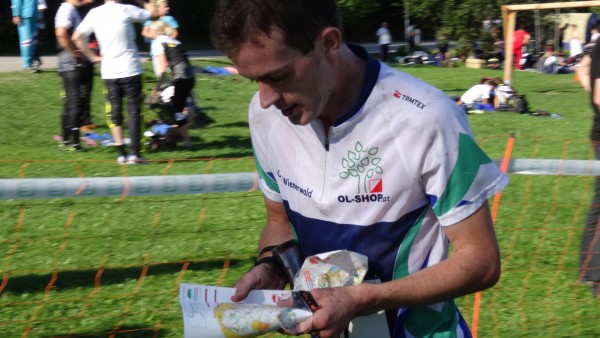 I have been aiming for a Gold medal at Austrian champs for some time now. Last Saturday it was finally my day!
The time after O-ringen has been spent focusing entirely on forest orienteering – in Sweden, where I already kicked off the WOC2016 preparation and in Vienna. As I'm not selected to run any World Cup races or at World champs my goal for the autumn season was to win the last national championship race. In the lead up some of the co-favorites disappeared by not registering because of private reasons, so I had to deal with being the big favorite for the long distance.
2-days competition Styrian O-days, both stages counting as World Ranking Events, were held in completely new orienteering terrain around Traboch and in Donawitz.
On the first part of the long distance I didn't execute the route choices (8-9, 12-13) perfectly and at the arena map exchange 3 seconds separated me from Martin who became silver medalist. I knew that the second half would be decisive so I was very focused and tried to go as hard as possible. From the arena passage until the end of the butterfly-loops I extended my lead to 2′ 39″. My biggest mistake was right after the loops where I lost about 50″. Otherwise a really good performance.
Running to the last control I didn't knew how fast I was compared to the others. I just heard that it's a matter of seconds, so I had to give everything until the finish line. The margin was actually comfortable 3 minutes 51 seconds, but it is always nice to finish with style.
Great to see that hard work pays off and finally get a national title in the long distance!


Map Part 1, Part 2, Results, Splits, TV-report ORF Sport, TV-report ORF Sport+
Public service broadcaster ORF has made a long report about the competition which will air on ORF Sport + at following times:
15.09. 20:15 / 16.09. 8:15 & 23:15 / 17.09. 11:15 / 18.09. 2:15 & 14:15 / 19.09. 5:15
It is now available on ORF TVthek and for viewers not from Austria on YouTube.
Second day in Donawitz offered an interesting sprint right outside Voestalpine, where New Zealands Tim Robertson brought some international touch in mens elite class. My performance was quite okay and as third and best Austrian it was a nice bonus competition for me! Results